We had a wonderful time visiting our friends Evan and Vicky and meeting their now one-year old daughter.
In addition to catching up with old friends, one of the highlights of the trip was definitely the food.
While that can likely be said of a trip to any foreign country… and while it may seem a bit silly to say that given that we've been living in Taiwan for the past month now… there is actually something that is quite unique about Singaporean cuisine, especially from the perspective of an American.
In terms of Taiwanese food… we can actually eat pretty much anything we've been eating in Taiwan in America.  There are numerous "Taiwanese Cafes" known as 台湾小吃 (tái wān xiǎo chī) places in both the Bay Area as well as in San Diego, which we actually frequented on a somewhat regular basis.  The difference is that the version in Taiwan is (on average) better tasting and cheaper.
But in general, any food that you can get unique to here, you can find in Cali.
That's definitely not true with Singaporean food.  We had a great (and calorically intensive) time enjoying all of the Singaporean local favorites, including kaya toast, bak kut teh, soft boiled eggs, and laksa.
Lani's such a huge fan of the laksa that she bought about 24 packs of uncooked laksa to take home with us!  We almost had to buy a second suitcase just to fit it all…
In between eating, we also checked out some sights.  We had been in Singapore two years ago with Jennica, so we thought it would be fun to re-take the same kind of photo we took with her when she was just nine-months old at the famous Merlion in the Marina Bay.
We also had a wonderful time taking our daughters out to a bike ride along the famous East Coast Park along the east coast of Singapore… with toddler bike seats and everything.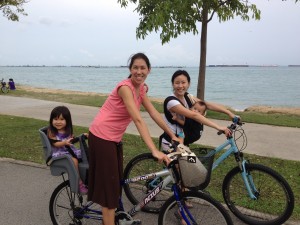 And one highlight that we missed two years ago which we knew for sure we wanted to hit this time around was the Night Safari at the Singaporean Zoo.
Really, really fun.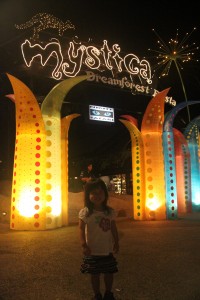 First of all… something to note about the Singaporean Zoo: it's built using a paddock system, which is unlike anything you'd see in the states.  Basically, the animals get to roam around freely in these paddocks, and you get to walk around with them.  Obviously for the more dangerous animals (elephants, lions, tigers, etc.) there is a moat that will surround their habitats, but those moats are covered with grass and other vegetation, so it still feels like you're roaming around freely with the lions and tigers as well, just like what I imagine it would be like in the savanna.
And the Night Safari is an added twist to it all, where you basically get to go (as the name suggests) at night.  It gives you a completely different view of the animals, as many are nocturnal, and even for those that are not you get to see completely different behaviors from them at night vs. the day.
The Night Safari doesn't open until 7pm, but they have a pretty cool looking outdoor food court area which opens up at 6pm, and the entire thing is open until 11pm.  They also have a lot shows and side entertainment, too.  If we were to do it over again, we'd probably aim to arrive right around 6p to make the most out of the entire evening… but due to a scheduling snafu, we didn't get there until around 9pm.
The zoo itself is set up very nicely.  They have a single-tram ride which takes you through the highlights of most of the zoo.  It's 45-minutes round trip, with a single stop in middle of the route where you can hop on or hop off.  But in addition to that, there are about a half dozen "walks" or paths that they have built which take you to all the other areas of the zoo.  You could easily spend at least a few hours just going on all the walks (we unfortunately only ended up being able to do the two shortest ones).