I can't believe we've been here for a month already!  The time is really flying by.
I wanted to put up a few posts that would help  illustrate what we do on more of a day-to-day type of basis… and of course, one obvious post would be about our apartment here in Kaohsiung.
As I mentioned earlier, with the help of Lani's relatives we were able to secure a great 2 BR, 2 BA apartment that is in a prime, central location.  It has a great view (13th floor) overlooking Bo Ai Road (one of the main roads in Kaohsiung), and it is right next to a 7-11 and it is just across the street from a mall, both of which can provide almost every amenity we would need.
We had booked this place way back over the summer, so when we arrived into Kaohsiung, we were naturally eager with anticipation to finally be able to see it in person.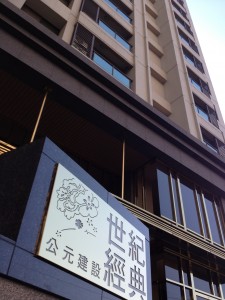 When we entered our new home, it was everything we had hoped it would be.  It was cozy and nice (about 900 square feet).  Not extraordinarily big, but definitely enough room for the 3 of us for the next 4 months.  Furnishings were a bit sparse (the definition of a "furnished" apartment is slightly different in Taiwan than it is in the U.S.), but the view was spectacular:
Now, one interesting little twist to all of this is that just a few weeks before our trip, Lani's mom had found a second unit in the same building… a smaller 2 BR, 1 BA unit which would be perfect for her.
So as we were looking at our place, Lani's mom went straight to her place in the same building.  As we were walking through, about 5 minutes later Lani's mom walks into our apartment and is nearly in tears.  "My place is too small!  I can't live there for the next 4 months!"
Then, she takes a quick glance at our place, and says, "Do you want to trade?"
At first, we thought she was half-joking.  But it turns out, she was totally serious.
LOL.
So now, we're living in a much smaller (about 600 square feet) apartment with the three of us… while Lani's mom is living by herself in a 900 square feet, 2 BR unit.
Despite the comical disparity of the two units, the apartment is actually not bad at all… sure, it's definitely smaller, and the one bathroom for the three of us was a bit of a concern when we first moved in… but as you can see from the pictures it's definitely a very nice place, and I'm excited to be able to call it our home for the wonderful months that we are here.
Oh, except for one thing…
The unit is on the 4th floor, so we get a lot more of the street noise.  And since we're right next to the 7-11, for some reason it's like the total post-bar or post-KTV hang out spot for the local Kaohsiung hoodlums.  Basically, most nights at around 4 in the morning, we here a barrage of laughter and loud conversations right outside our apartment.
Ah… the joys of city living.