So I forgot to give the quick update, but I'm officially registered for the Half Marathon in the 2013 Kaohsiung International Marathon.  After doing a bit of research… I found out that this race is no joke.  They've got three events: a full marathon, a half marathon, and a 3.5k "Fun Run".  Last year, they had over 17,000 runners (most of which were doing the Fun Run), and this year they're expecting over 20,000.
As a reference point, this past year's US Half Marathon had only 4,000 people.
The breakdown for the events are 2,000 marathoners, 5,000 running the half, and the rest (they're expecting over 14,000) running the 3.5k.  They have registrants from all over the world (and by "all over the world", I mean Kenya).
I actually almost didn't get in… they had originally closed up registration pretty fast (sold out within 4 days).  But then they announced that they would open it up again for a few more spots… and so I made sure to be my computer when they said they would open it up again.  Apparently I wasn't the only one trying to get in on the second-chance registration pool — the webserver crashed continually when registration opened up again (btw, HTTP 503 errors look pretty funny in Chinese).  After about 45 minutes of hitting Command-R in Firefox, I finally got registered.
Soooo… I guess that means I need to start training.
So I've been waking up early to do some of my longer runs… and this morning I passed by something that I had never seen before.
Taiwan (and most of East Asia in general) are well known for their night markets, which Lani posted about last month.
Well, this is the first time I saw… a morning market.  Scores of rows of fresh meat, vegetables, etc., and it was getting some pretty decent traffic, all at 6:40am on a Saturday morning!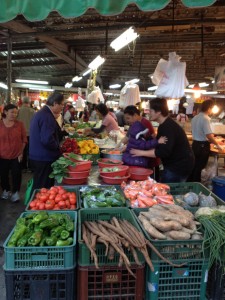 I'm at about 6.5 miles, with about 8 weeks of training to go!