Moving day, er, uh… moving weekend has arrived.
I can't believe that we've been in San Diego 7 months already!  It allowed me a brief moment of reflection to see how much God has been able to help us with our adjustment to SoCal.  Of course our biggest concern was trying to find community, make friends, etc.  And even though we've definitely hit some bumps in the road, I can definitely say that I'll miss all of the people that we've met and gotten to know during our short time in San Diego up until now.
Anyway, moving from Sunnyvale and packing up everything 7 months ago was already such an ordeal.  So Lani and I swore to each other that we wouldn't buy any durable goods during our short time at our apartment in San Diego… hehe, oh well, so much for that.
We ended up accumulating a ton more junk (to add to our already existing pile of stuff), which of course meant that we added work for ourselves.  But good thing Jennica was helping us with packing!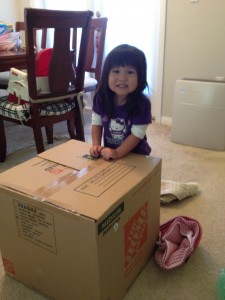 Er, well, helping in her own way, I guess…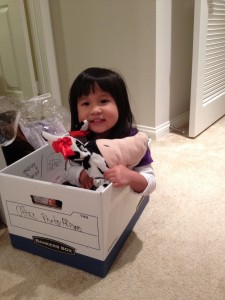 Obviously, since we're leaving the country, we ended up renting a storage unit to store most of our larger stuff (furniture, etc.)  It's actually a bit surreal to see all of your worldly possessions compressed into a 12x12x12 cube: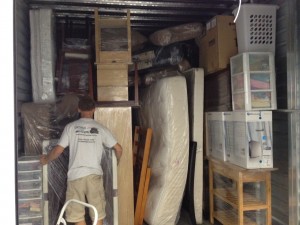 It's also a bit weird now feeling like we have no actual home.  I'm still going into work this week, and I think it's gonna be a bit weird coming "home" from work… to… well, a place that's not really home (we're staying with Lani's mom for the remainder of the week until we take off).
Anyway… just 4 more days and we're on our way!