We've made it to Taiwan!!!
What a looooooooong trip.  This is what our travel experience includes:
a 2-hour drive from San Diego to Los Angeles
a 3-hour wait in LAX
a 15-hour flight from LAX to TPE
a 2-minute line at Taiwan Immigration and Customs — wow… only 2 minutes, Mike?  How can that be?  Well, I'm glad you asked!  BTW, this is something that the US and DHS should learn from pretty much every country in East Asia… a 2 year old child, who has just been trapped in a 2×2 space for the past 15 hours, waiting in a long 2-hour line where you can only stand and can't have anything to do is likely not the best idea; not for the child, nor for the parents, nor for pretty much anyone else who is also waiting in that line.  But the solution to this is so simple, that it can be said (or in this case, typed) with just 3 simple words: Family-Only Lines.
an overnight stay at the airport hotel
a 10-minute shuttle-bus ride to the High Speed Rail station
a 1 hour, 40 minute rid eon the High Speed Rail
and finally, a 10-minute car ride to our new home
Given normal circumstances, I would say that most people would agree that the above would already be quite a trip.  But… throw in there a 2 1/2 year old girl, a stroller, and count them: 8 pieces of luggage and no less than 8 additional pieces of carry-on bags… and the entire experience turns into, well… an experience.
In hindsight, I should've taken a picture of everything, as I'm sure it would've made a pretty cool blog photo.
So as a consolation, I guess another cute photo of Jennica will have to do: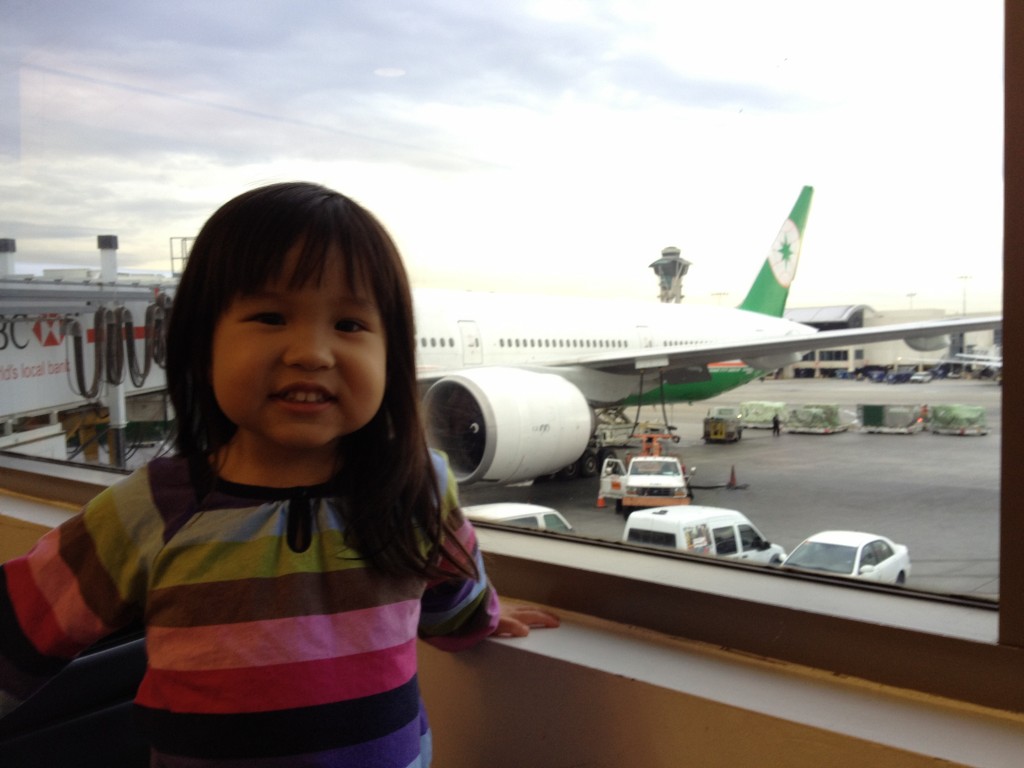 Anyway, interestingly enough, at LAX, they now charge a whopping $5 per luggage cart at the departure drop-off area in the international terminal.  Such a rip off, isn't it!?
Well, had some aspiring Taiwanese entrepreneur been renting out similar luggage carts at the HSR station, I would've easily paid $500… US.
Trust me… moving that many pieces by hand is something you don't want to do… ever again… until, I guess, you have to do it again when you leave in 4 months.  Ugh… oh well.
The morning at the hotel, we had a chance to catch up with one of Lani's cousin and her family (husband and two children).  After taking about 842 photos, I think I got one where all three were (kinda) looking at the camera and (kinda) smiling at the same time.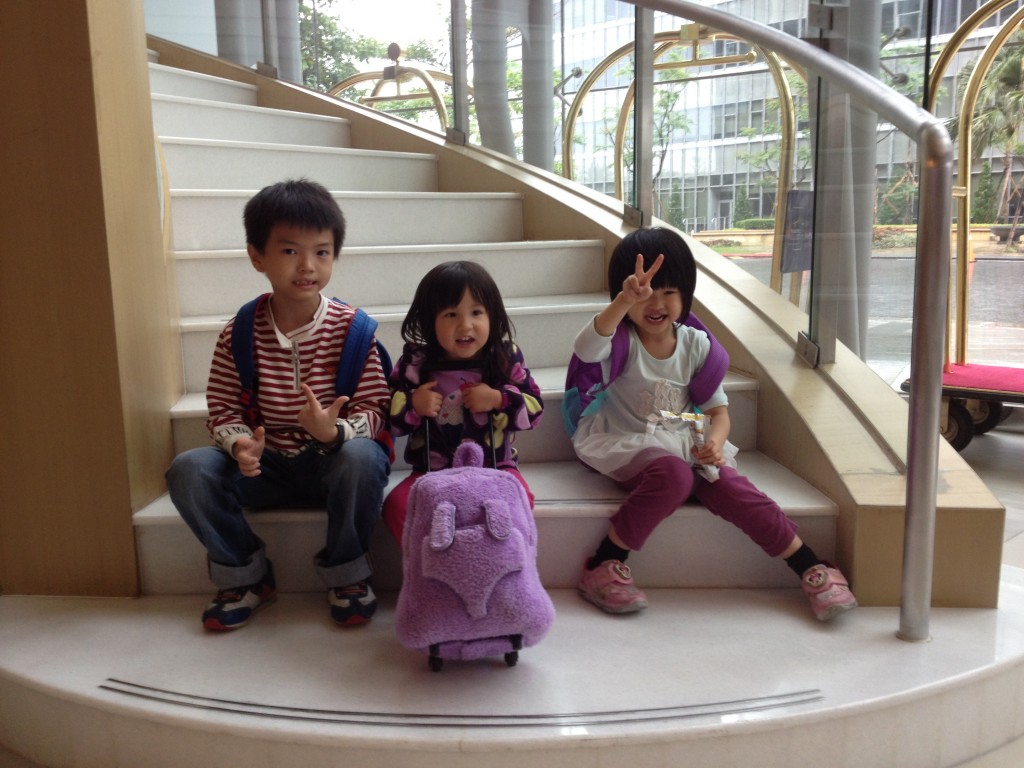 Thank goodness for the trash icon on the iPhone Camera app.  Now… if only I would use it… in the meantime, one of my TO DO list tasks in Taiwan is to get (yet another) hard drive to store all of our photos… j/k