After 2 months of eager anticipation, the day is finally here.
Three simple words has graced our welcome since we arrived to Kaohsiung over 2 months ago:
鼎泰豐
For those that don't know, Din Tai Fung is the Taiwanese contribution to world cuisine.  They have been rewarded with the famed Michelin star since 2009.  And (Lani thought I shouldn't say this since she felt it would ruffle up a lot of feathers) seeing that Michelin has stopped rating restaurants in Los Angeles, and seeing that there is actually a branch of Din Tai Fung in Los Angeles, I would argue that Din Tai Fung is the only restaurant in Los Angeles that has a Michelin Star.  Heh heh heh…
They are most famous for their 小笼包 (xiǎo lóng bāo), which are similar to dumplings, but are steamed in small bamboo baskets and are typically incredibly juicy inside, and thus, wonderfully delicious.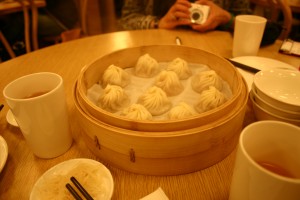 In fact, xiǎo lóng bāo buns are so juicy inside, that in Taiwan they are actually called 湯包 (tāng bāo), which is literally translated "soup bun".
Din Tai Fung originally started as a cooking oil company but opened up a restaurant in Taipei in the early 1980s.  Since then, they have become world-renown, with about 50 locations throughout Asia (8 in Taiwan alone), 2 in the US (Arcadia and Seattle), and 3 in Australia.
Unfortunately, while I am such a major fan of Din Tai Fung, I cannot say that I have been to all their locations.  In fact, I have actually only been to three: the one in Arcadia (which we've been to like a dozen times), a new one in Taipei 101 recently with Jonathan and Kathy, and the original Din Tai Fung on Xinyi Road in Taipei.
Interestingly enough, even though there are 8 locations throughout Taiwan, there are actually no locations in southern Taiwan, including Kaohsiung, which is especially surprising considering Kaohsiung is the second largest city in Taiwan.
Well, that is all about to change.
When we first arrived to Kaohsiung back in November, I took a walk through the food and restaurant area at the Hanshin Mall right next door to us, and there… shining like a beacon of light, calling a weary traveler back home to the comforts of love and peace… was a sign that had the sweetest 6 words I have ever seen written on a wall:
Din Tai Fung
Coming January 2013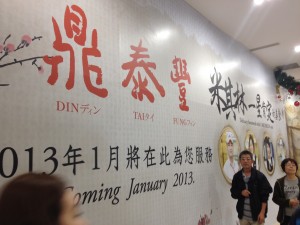 Fast forward two months later, and we finally got word of their actual opening date and time: Tuesday, January 22.  Hanshin Mall put up banners all over the mall to celebrate the occasion.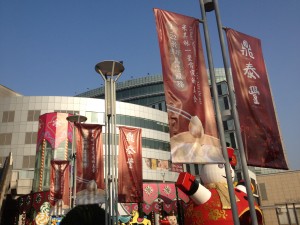 So, even though I can't say I have been to all 50+ of their locations worldwide, I have the unique opportunity to say something that I think even some of the most die-hard fans of Din Tai Fung would not be able to say: that I have eaten at a Din Tai Fung on opening day.
I have a very strong feeling that the lines on Tuesday will be very long, so I intend to get there bright and early to wait in line.
Funny enough, I think most people know how much of a die hard fan I am of Apple products.  After all, on our trip to Taiwan alone, we brought the following Apple-branded products with us:
(2) iPhone 4S
(1) iPad Mini
(1) iPad (1st Gen)
(1) MacBook Pro 15″ (Early 2011 Model)
(1) MacBook Air 13″ (Late 2010 Model)
(2) iPod Touch (4th Gen)
(2) Bluetooth Keyboard
(1) Bluetooth Magic Mouse
(1) Corded Magic Mouse
Yet, despite all my Apple fanboi-ism, I think it's probably pretty surprising that I have never done the get-in-line-early thing for an Apple product launch.
In fact, I don't think I've ever really done the get-in-line-early thing for any sort of launch whatsoever.
But all that is about to change this coming Tuesday.
I'll be live-blogging from this once-in-Mike-Ho's-lifetime event.  Stay tuned.
P.S. We were chatting with Lani's mom about our plan for Tuesday… and she snidely remarked, "What's the point of getting there so early?  No one's going to be there.  It's not that big of a deal.  Just go there around 2pm, no one will be there and you won't have to wait."
I tried to explain to her that I've been to 3 different Din Tai Fung's, all at times that are not traditional lunch times, and all three have shown crazy wait times.  So especially given that this is opening day, and the first Din Tai Fung in southern Taiwan, it's going to be even crazier.
Well, after this conversation, Lani and I ended up walking through Hanshin to get a few things for the week.  Even though they do not open for another 40 hours, they finally pulled down the construction barricades and revealed the restaurant, and staff was running around doing the last minute preparations.  The crowd that was already there checking out the restaurant confirms to me that it's going to be crazy on Tuesday.  There was even a queue of people who had lined up just to ask some of the staff questions!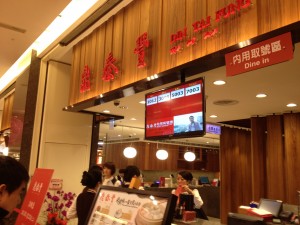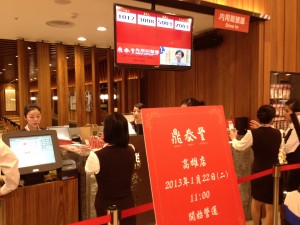 And finally, speaking of crazy, clearly I am not the only one who is looking forward to Tuesday: