This past week, the most unfortunate thing happened… Lani's MacBook Air broke down.
Actually, it turns out it wasn't her MacBook Air, it was more specifically the brand new SSD "upgrade" that I had put in her Air a few weeks before we left for Taiwan.  (Other World Computing will be hearing from me shortly after we get back… but I digress…)
Unfortunately, and for reasons past my understanding, there are actually no Apple Stores in Taiwan.  My hunch is that it has to do with some sort of Taiwan vs. China thing — China has 8 stores, yet the GDP per capita in Taiwan is over 4x that of China's, which is odd considering Apple's notoriously high prices for it's products.  I tend to wonder if there's something else going on, especially considering that the products, themselves, are made in China… but I digress… again…
Anyway, in order to have repairs done in an Apple product in Taiwan, you can go to any number of Authorized Apple Service shops.  The closest one to us was a little store called (no joke) Lemon Computer.  It is located on Jiànguó Road, which is known colloquially here as Computer Road.  But I prefer to call it… "Nerdvana".
In California, it is all about Fry's Electronics.  It is the place where I can get my weekly (or sometimes daily) hit of geekdom.
And if it's after 9pm or before 9am, then there is always NewEgg.com online.
But I tell you… all the Fry's locations in California combined, plus NewEgg.com, have nothing on Jiànguó Road.
We are talking a whole mile of computer stores… back-to-back.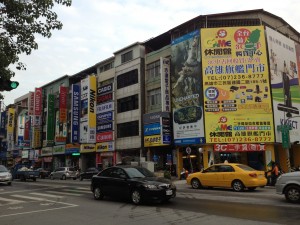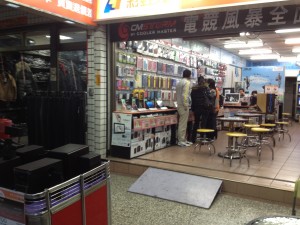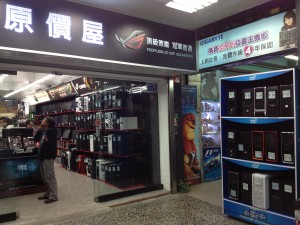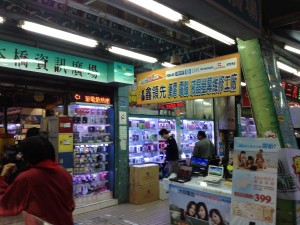 Anyway, as inconvenient as it was to have to do computer repairs out here, I was pleasantly surprised with one thing.  The total cost it took for them to do everything, including diagnosing the problem, replacing the faulty SSD with the original one (which fortunately we had brought with us to Taiwan), reinstalling the latest copy of Mountain Lion, and then running final diagnostics on everything: 850 NT, or roughly $29 USD.
Imagine that, compared to something like Geek Squad in the US, where (I believe) that an initial consultation for computer hardware repair starts at $90.
Anyway, I'm happy to announce that Lani is back up and running with her MacBook Air now, so that I now have full, unimpeded access to my own 15 or so Apple devices here. =P